Meredith Corporation is a media company that publishes Better Homes and Gardens, along with many other lifestyle magazines. In Des Moines, Iowa, where they are headquartered, they make it clear they don't keep up with the Jones'—they are the Jones'.
When our go-to graphics installer broke his leg a week before executing a large installation for Meredith, we were all pretty concerned. But, being the ever resourceful company we are, with a small, but mighty, staff, we tapped one of our own staff members for the job and pulled it off without a hitch. Because that's what we do.
The project:
Meredith Corporation's campus is one of the first views you see when driving into downtown Des Moines. The 68-foot by 35-foot mural we print for them is the dominant feature of their facade, entirely covering a glass wall with perforated, one-way vinyl.
Four times a year, the giant mural is changed out to celebrate the coming season. The murals are gifts of public art to the city of Des Moines, and all eyes in the city eagerly watch as the new image slowly takes shape every few months. Setbacks are not good.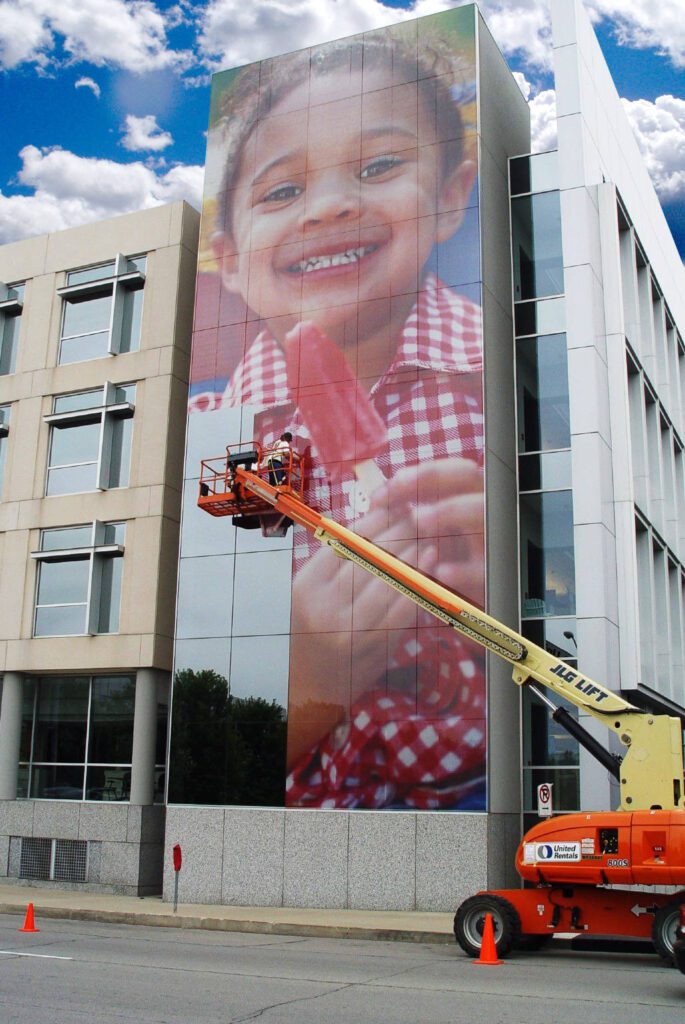 The fix:
Daniel Rodriguez has developed some serious skills in the years he's worked for us. When we needed someone to step up, Daniel was all in. After a meeting with the laid-up installer for tips he was ready.
Daniel quite literally went to new heights in his career for this one and and finished the installation on-time, without problems. With a week's notice (see the video above).
The take away:
For 14 years, we've been there every step of the way, helping to design and print the graphics for the mural under tight deadlines and sometimes extraordinary circumstances. So when we needed to find a way around the problem, we simply looked to our own team of extremely talented and dedicated professionals.
At Beeline and Blue, we know you rely on us to simply get it done. And though long hours, dedication, and no small amount of ink-scented magic, we do.