Capabilities
Our printing services are vast and multi-faceted.
What can we print for you?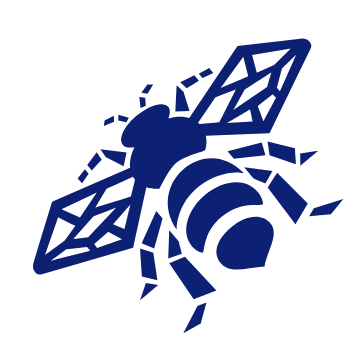 Brochures, Flyers and Booklets
Narrow Format Printing is defined as printing/copying up to 11"x17", often with a full bleed*.
Our machines produce prints and copies at speeds you may not fully believe or understand. We can process runs of 10 copies or 10,000 copies in less time than it will probably take you to read this page and decide to give us a call.
Seriously, sky's the limit. We have more paper in storage than is probably legal to have.
Technical stuff:
Prints from business card size up to 11"x17"
Full-bleed
Color editing/enhancement
Document design
Reduce and enlarge from 50 percent to 400 percent
Double-sided printing
Document binding
Full finishing and assembly services
Posters, Banners and P.O.S. Graphics
Where Narrow Format is all about volume, Large Format is all about size. When you need to get the biggest bang for your marketing bucks, size matters. No, seriously. It does.
At Beeline and Blue, we are in the business of making your vision a reality. Cover a building with graphics, advertise on enormous yard signs, hang a banner across the street announcing your business' open house, or cover your office walls with custom wallpaper featuring your cat, Sir Archibald Fluffington III. We don't judge*. We make it happen.
Lamination and Long-term Protection
You need to protect your images. We can help. Our technology will protect your investments from UV fading, scratching, cleaning products, vandalism, rain and snow, and more. And coating also adds vibrancy to images. And it's fast to boot. Double score, bro!
Custom Wall Coverings
Who doesn't love the idea of completely custom, unique coverings for your walls? Using the HP WallArt technology, you can create custom wall coverings that fit exactly into the spaces or rooms you need, and reflect your unique tastes exactly.
Speaking of unique tastes: It's all right that no one understands your deep love of sea urchins. You love the rich colors, the sharp* details, and the way they stick to all kinds of surfaces. It's ok, we get it. Those are all the things we love about our custom-printed wallpapers too! Let us add some interest (and maybe some sea urchins) to your office wall, lobby, or living room.
Try out our fancy wall covering software for yourself if you don't believe us. Just click one of the the "Design" buttons below to begin.
Big Banners, Posters and Tradeshow Displays
You need your message printed on something big. REALLY big. Presidential candidate-big. And it has to be conveniently moved and shipped.
Our full-color or black and white flexible substrate printing gets it done with style and poise. We can print up to 16-feet wide and virtually any length. Like the number of political ads on TV in Iowa, the possibilities are almost endless.
Ideal for retail store signs, trade show booths, color comps, business presentations, courtroom exhibits, point-of-purchase displays and any other short-run projects.
Yard Signs, Stand Ups and Menu Boards
Why limit yourself to just paper? Our printers can print directly to almost any rigid substrate. You want vinyl, plexiglass, metal, or plywood? We can do it. What we can't do is print a new personality onto your brother-in-law. His conversation may be flatter and more devoid substance than the Utah salt flats, but that's something you'll have to deal with yourself.
Custom Cut Silhouettes, Signage and Routing.
The creative possibilities are endless with our custom cutting services. Not only will people be impressed by your new point-of-sales displays featuring your smiling face, they'll also be able to fully appreciate the incredible shape of your hair. But seriously, how do you get it to look that good? Because we have some people around here who could use a little help in the hair department. Or a lot of help.
Our fully-automated, digital cutting system is capable of creating custom cutouts for your small and large format signs and graphics. Ideal for POP displays, trade show booth graphics, ceiling danglers, and more.
Vehicle Decals and Wraps
Your delivery and company vehicles are constantly zipping around town, being seen by thousands of people every day. They could be pulling a double purpose by advertising your business. Not to mention easing the minds of your customers who might find that unmarked, windowless panel van a little creepy.
Your imagination is the limit. Wrap every inch of your delivery vehicles, company cars, and trucks for a bold message. Or add decals and other graphics to let the world know your company is on the go.
We handle all manufacturing and installation, whether local or around the country. Let Beeline+Blue outfit your fleet with custom graphics and start realizing increased sales today!
Fine Art Reproduction
Want to reproduce your Fine Art, but have no idea where to start? Beeline can help you with that.
The first step is making a high-quality digital file of your work. Our Metis DRS 2000 flatbed scanner can produce 16-bit RGB files at resolutions from 300 to 1000 dpi. The LED lighting system produces even, highly-accurate color. The scanner bed itself is 48" x 72", so we can scan even your largest art works.*
The Metis scanner's engineering and software allow us to scan virtually any type of flat art: paintings, fabric, mixed media, framed, under glass, highly glossy, highly textured… if you created it, we can scan it.
Are you a prolific artist, with many smaller pieces you wish you could afford to scan? We charge by the scan pass, not the number of pieces you have. Our gang-scan policy can save you money – call us for more information.
* Are your works larger than 48" x 72"? No problem- we can still scan them! Call us for details and a quote.
Once we have produced your digital file, the possibilities are limitless. We can reproduce your work on art or photo paper; or any of our other substrates, such as acrylic, metal, or wallpaper – you name it.
Fine Art Reproduction and Photographic printing.
We offer standard and custom-size prints, custom borders, and deckled edges on five different archival art papers. We can print on canvas up to 60" short dimension, and can produce finished, ready-to-hang gallery wrap canvases in sizes 24×36 and below.
Is Photography your art? Many photographs look stunning when printed on art paper or canvas. And we also have a choice of 5 high-quality photo papers at various price points and surfaces.
We use Canon imageProGraf and Canon Pro series printers for brilliant, long-lasting color reproductions on all of our media.
Upload your digital files quickly and easily through our portal:
New in 2021: Textured Fine Art Reproductions
Do you wish you could reproduce not only the color, but also the artistry of your brush strokes?
We can now do that, thanks to the combination of our Metis scanner and our SwissQ flatbed printer. Your reproductions will both look and feel like originals.